Regular price
$9.99
Sale price
$9.99
Unit price
per
Sale
Sold out
Product Details
Fanwer self-wipe toilet aid tool is actually a rubber toileting tong or a bottom buddy alternative with a long-reach handle. Catering to those in need of taking care of personal bottom hygiene but without flexible mobility aids, this ergonomically designed item helps those with limited dexterity. The soft and flexible wand head grips toilet paper, toilet tissue, or pre-moistened wipes securely and firmly.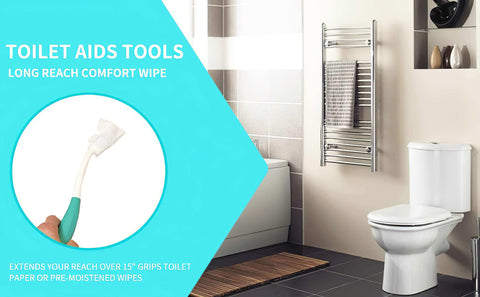 Features:
CRITICAL AID: Dedicated to helping people having difficulty bending, reaching, turning over, and moving. This self-wipe toilet aids device allows users to be more self-sufficient and agile in and around their own homes. It empowers individuals to complete the wiping function safely and effectively with dignity. Meanwhile, this self-wipe assistive device helps spare family members, relatives, or even friends to take care of the one with low mobility. 
LONG-TIME USAGE: This important self-wiping toileting aid tool is made with a combination of solid plastic and rubber,  to provide long-term strength and usage. With sporadical falls or collisions with other stuff, the material can protect the toilet wand from breaking. Moreover, this cushioned, flexible end is extremely soft against the skin for added comfort to users' bodies. After all, making poop smooth is one of the most important daily activities for humankind.
ERGONOMIC DESIGN: This toileting wand for wiping features an ergonomic shape to help those who have a limited range of motion and mobility. Its ergonomically designed long handle makes it easy for users (such as disabled, elderly, seniors, or handicapped) to grip and use, while the 14-inch length effectively extends the user's reach when wiping from either from front or back (it's better for the women to wipe from front to back, while men from back to front, for healthy reasons).
ENHANCE SELF-CONFIDENCE: There is an increasing number of people who need assistance with wiping due to limited arm and upper body mobilities, resulting from an accident, surgery, stroke, arthritis, or other constrained conditions. This aid is ideal for groups of users who need assistance or aid but would rather not require others' help.
EASY TO USE: The method of wiping with this toilet-aiding tool by oneself is easy. Just insert a few sheets of toilet tissue or a pre-moistened wipe into the soft, flexible wand head. This cushioned terminal grips the tissue, toilet paper, or wipes securely and firmly for wiping convenience. After completion, the tissue can be released or even ejected by pushing the actuator release button on top. All the above merits make it a great toilet aids tool. Please refer to the video down below:
Share
View full details